---
Secure Your Seat at The Professors NEXT Virtual Mastermind
(Attendees of PPE1.0 and PPE2.0 were ecstatic with the information they learned)
To find out more continue reading…
---
EVENT DATES: March 1 to 2, 2021
CHECK OUT THE TESTIMONIALS FROM THE LAST EVENT:
---
---
YES! I Want To Join PPE 3.0
---
Where I'll Get Access to Howard Thai's Network and 100% PROVEN System For Scaling My Amazon Business...
---
---
Instant. Secure. Processing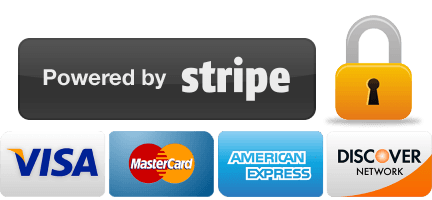 YOU ARE PROTECTED: Your investment is processed through a secure, 256-bit encrypted payment processing gateway to ensure your privacy and security.
---
Discount Available until February 28, 2021

This EXCLUSIVE OFFER is No Longer Available When the Timer Hits 00:00:00
---
Time's Up! Offer has Expired
---
As ethical merchants it is very important to us that you understand the following to avoid confusion :

* Your investment will appear on your bank statement under "Howard Thai" or "United Integral Inc." or "Liz Herrera" or "PPE" or "I Build Your Brand LLC"

* The geographic location of your computer has been determined and recorded. All attempts at fraud will be prosecuted and you agree to contact our support to process any refund request and to give us a chance to resolve any issue in a timely manner ([email protected])

* You agree and understand that PAYMENTS ARE NON CANCELABLE AND NON REFUNDABLE.
Check Out This PPE 2.0 Recap
---
---
What You Get With PPE 3.0
COMMUNITY . TRAINING . INOVATION
---
---
OUR HOST: HOWARD THAI: The Man, The Myth, The Legend himself will speak about his next innovative case study that he has been keeping under wraps for the past two months. There's no telling what he'll do this time…
EMCEE: ELIZABETH HERRERA: Multiple 7 figure PER MONTH seller will be keeping you entertained and informed through each speaker's transition...
SPEAKER 3: ANTHONY LEE: Has ranking on Amazon changed drastically in the past two months? If anyone knows it would be Anthony who has this down to a science. Learn about the all new mediums being used to achieve page one and be ready for the best Q4 ever.
SPEAKER 4: TARIK BERRADA: Learn advanced PPC tactics from one of the world's foremost experts in AI in PPC.
SPEAKER 5: DEE DENG: Co-founder and head of growth at Right Hook Digital. Within 14 months, Dee and his team grew Right Hook to a 7-figure agency while managing millions in ad spend for their growth clients.
SPEAKER 6: EHUD SEGEV: The premier Amazon Live expert will share with us all the knowledge and analytics he's collected since being the #1 streamer in all of Amazon!
SPEAKER 7: JEREMY RIECHERS: Meet part of the trio that does over 50 million dollars a year on Amazon. Jeremy Riechers is "Patrick's voice of reason" and an expert social engineer - he knows how to talk to Amazon to get stuff done.
SPEAKER 8: LAZAR ZEPINIC: Owner of Sellers Alley, Amazon PPC agency. Lazar has been a PPC Specialist for 9 years and has worked with 7-9 figure Amazon sellers.
SPEAKER 9: ZACK FRANKLIN: An 8-figure Amazon seller and the secret weapon of the Chinese e-commerce giants. He has sold in dozens of categories and managed top selling brands and Amazon listings.
SPEAKER 10: MATT ALTMAN: AKA "The Supplement King". He's so good in the supplement industry that investment firms throw money at this guy to have him geometrically multiply the sales of acquired companies.
SPEAKER 11: ROGER NGO: Roger heads APAC RPO at Goldman Sachs, covering all divisions. He was previously in SCB, Head of Talent Acquisition for Retail Banking and I.T & Operations.
SPEAKER 12: TALIESEN HOLLYWOOD: Director of Hahnbeck, a M&A consultancy that helps business owners, from ecommerce and Amazon FBA businesses to design agencies to SAAS businesses, to sell their businesses, or to acquire other businesses.
SPEAKER 13: LANA PASCIAK: The first 20 million USD female Amazon seller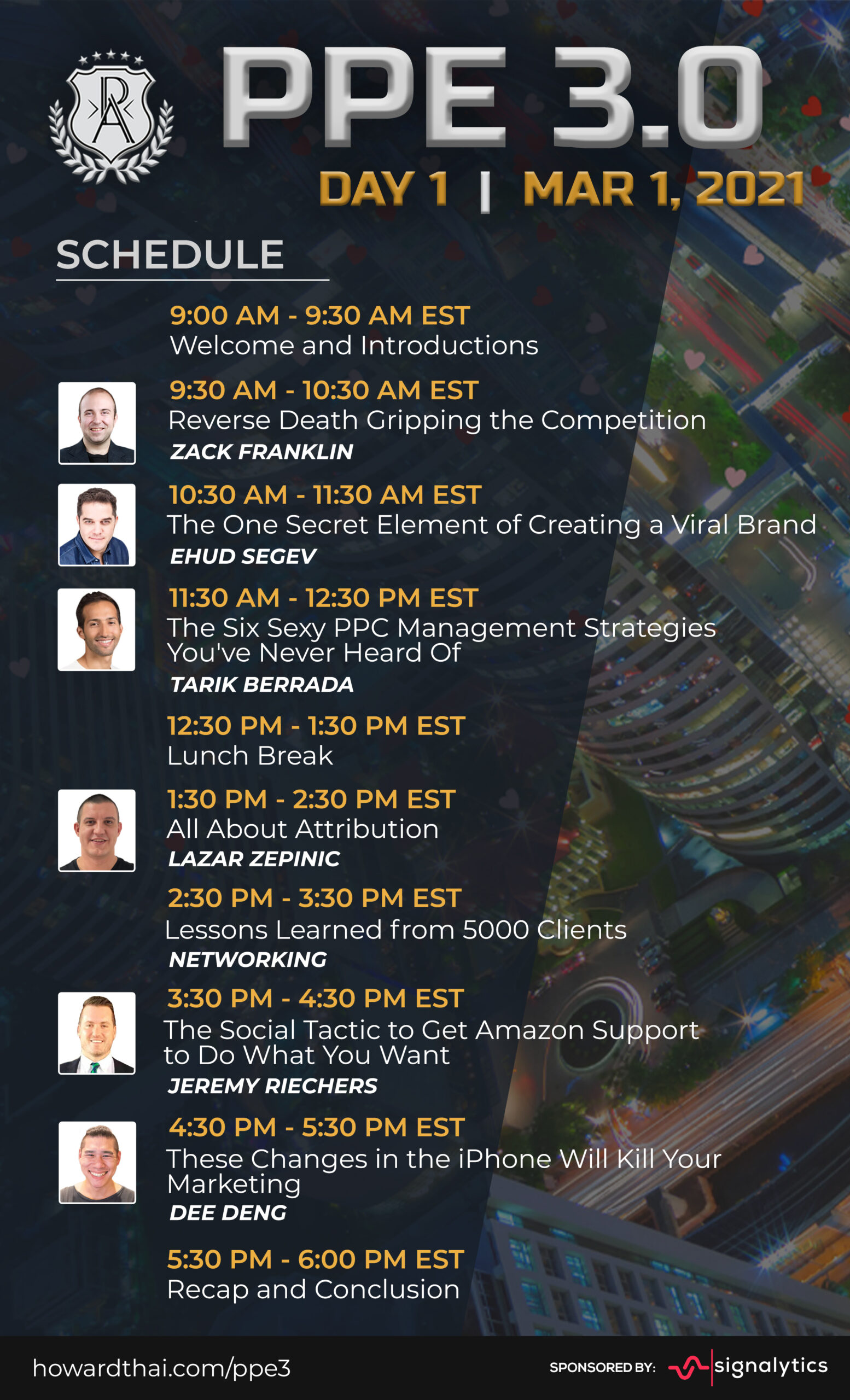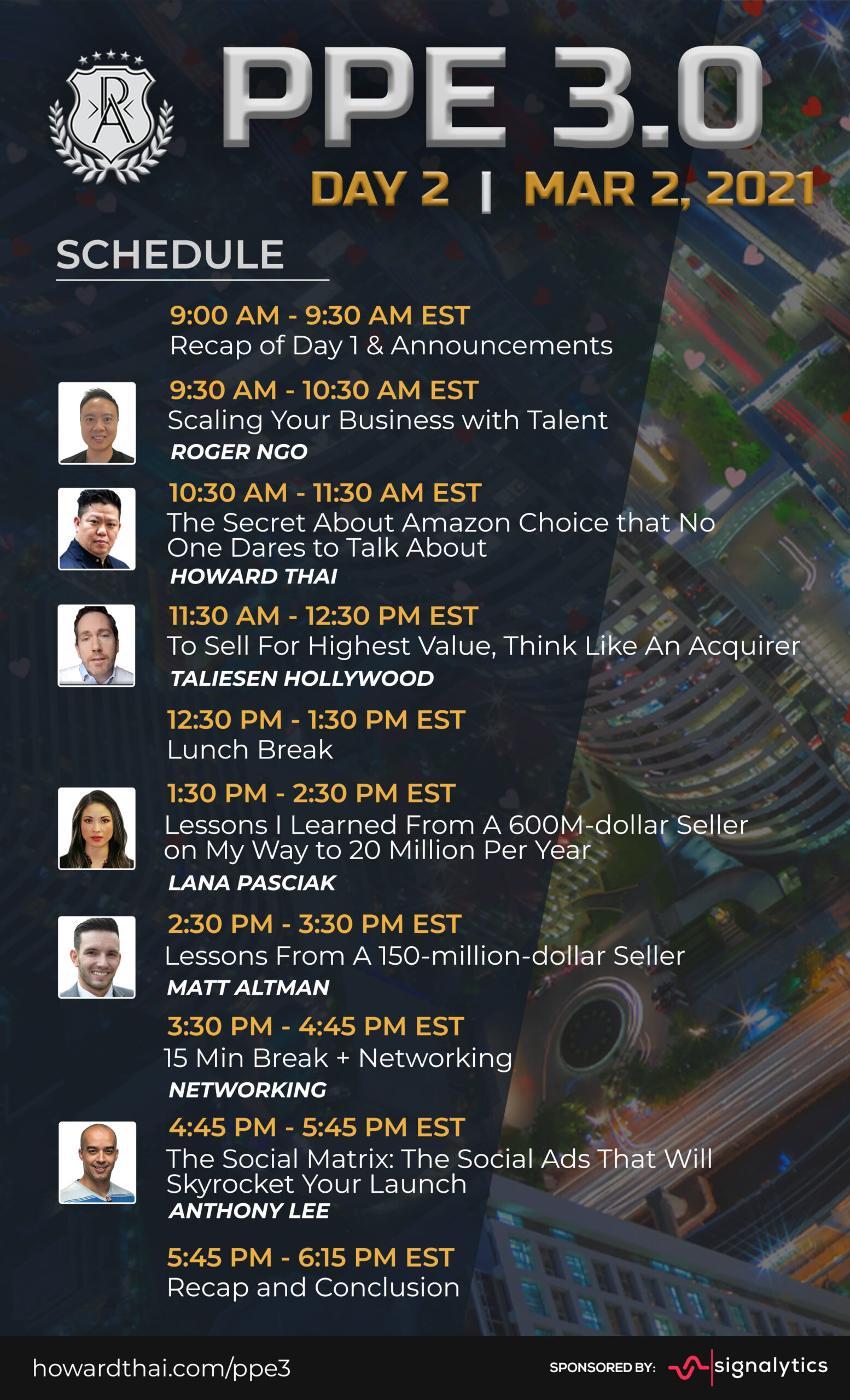 THE PROFESSORS MBA IS USUALLY PRICED AT
$12,000.00 or more...
---
Your Price Today is ONLY $1,497
PLUS: You Get All These Valuable Bonuses for FREE!
​VALUE OF BONUSES ONLY: $4,494.00 (at least...)
​TOTAL VALUE:

 

$16,494.00 (at least...)
​Your Price Today:

 

ONLY $1,497
​Your Savings Today:

 

$14,497.00
* All Future Masterminds will Require a Minimum of $12,000.00 Investment... So Take Advantage of This One Time Offer!
From the Desk of Howard Thai:
---
Wait... WHY AM I DOING THIS?

Normally, ALL of my masterminds and events 100% REQUIRE an extensive interview and application process to ensure that you are a good fit for the mastermind (we do not accept just anyone into our masterminds)...

...in fact, we usually reject around 60% of those that try to join this Elite Seller's Mastermind.

My team and I do this so that we can keep the mastermind community RICH with Elite Sellers and the brightest minds in the industry. And the secrets we share can't be shared with just anyone (we make this concrete by requiring a Non Disclosure Agreement to be signed by all members)...

I generally even require that you make at least a minimum of $1.2 Million in revenue on Amazon's platform annually to even qualify to attend one of my in person events and masterminds.

So WHY am I doing it different this time?

WHY would I give you the opportunity to invest RIGHT NOW, and secure your spot without an application or even a $1.2 Million Dollar sales requirement?

WHY am I lifting all of my normal restrictions for my masterminds?

The answer is simple... THESE ARE STRANGE TIMES:

The world has seemingly changed over night, and Drastic Times call for Drastic Measures!

I don't want ANYONE to be left out if they're struggling or want to take advantage of all the Genuine OPPORTUNITY that is available to sellers right now...

Yea - you read that right - "OPPORTUNITY"

The PPE is so much more than just what to do during this time...

...it's going to EXPOSE the incredible opportunity for expansion, growth, increased profit margins, complete domination of niches, and so much more.

I'll end my short note to you with this...

If YOU are a REAL player in the Amazon seller space, then jump in on this while you still can:

* The most brilliant minds in the industry will be speaking * Bleeding edge strategies will be shared * Systems to shortcut and scale will be replicated * Opportunity like you've never seen before will be revealed * and so so so much more

This is the ONLY time I will ever allow sellers to attend my mastermind with such lenient terms... because this is a time that requires a large shift for everyone.

You don't want to miss this... so Click the Button Below Now!

Secure your spot while you still can. This event is from November 9th to November 10th of 2020... However, this Once-In-A-Lifetime offer goes away when the timer hits 00:00:00 on November 8th:
---
MEET YOUR KEYNOTE SPEAKERS:
Of course Howard will be teaching you bleeding edge information, strategies, and systems during this event... but there is so much more brought to the stage by these speakers from all over the world!
---
---
Ehud Segev is a renowned super mentalist and author of two best selling Amazon books, 9 Steps to Influence and Secrets of the Voice. He started out selling these on Amazon, and few years later, he eventually ended up working with hundreds and hundreds of brands and generating hundreds of millions of dollars with all these brands combined. He merges his advanced knowledge in the subconscious mind with the world of marketing and business. Ehud is also an expert on video production for product listings and is very knowledgeable of the Amazon Live platform. In fact, his is the first channel to stream on the Amazon Live platform, and is currently one of streamers on it.
---
---
Anthony Lee is a return speaker who has spoken in both PPE 1.0 and PPE 2.0, and a lot of people just went bananas for the priceless information he has shared. He is constantly testing and constantly trying new things. With a mind set in collecting data, analyzing data, and learning how to rank best on Amazon with the current actual conditions, with a world of data and algorithms at his fingertips, Anthony Lee is definitely an Amazon genius. Tune in as he has the power of articulating complex concepts and latest trends and insights in a clear way.
---
---
Dee Deng, co-founder and CEO of Right Hook Digital, an eCommerce growth & performance marketing agency is managing millions in ad spend for their growth clients all around Australia and the USA. Not only is he an expert on Amazon and Facebook, but multiple other social traffic sources and social paid search as well. His team has managed to help a client generate $2 million in paid traffic in just an hour. Tune in to learn more about Dee's journey and the inner mechanics of paid traffic.
---
---
We have Lazar Zepinic, an Amazon PPC expert and one of top 100 Google advertisers in Northern Europe. Lazar, with 10 years of experience in this realm, has pretty much seen PPC. He has seen what it was before and how it has evolved into these machine learning and artificially intelligent PPC systems we have today. Lazar is part of an Amazon PPC consultant group and owns an Amazon agency with a team of 70 people. He has worked with 7-9 figure Amazon sellers and has experience in optimizing multi-million accounts on both Seller Central and Amazon Advertising platforms.
---
---
Lana Pasciak is an 8-figure Amazon seller and the first female to reach the $20 million USD mark. Before Lana started her Amazon journey, she was a CPA for 15 years at the largest public accounting firm in the world. Because of that experience, she was able to leverage her business in a very strategic and successful manner, optimizing the structure for income tax purposes. In this episode, we will talk more about Lana's road to being the first female $20 million USD seller, and what are the secrets strategies in achieving that.
---
SPEAKER: Tarik Berrada Hmima
---
Tarik Berrada Hmima is an expert of delivering complex data-based solutions and is passionate about using technology to solve challenging business problems, building world-class AI-based tools. His agency helps both startups and large companies maximize profit from Amazon advertising using state of the art Machine Learning algorithms.
---
---
Coming from the most hardcore marketing background, our guest, Zack Franklin is here to reveal his unique tricks and strategies for Amazon that allows him have better results than most people. He is an 8-figure Amazon seller and is known as the secret weapon of the Chinese e-commerce giants. Last year, he was focused on conversion rate optimization, Google shopping, Shopify, and just about anything that is off of Amazon. Zack is an expert when it comes to the affiliate marketing space. In this episode and on PPE3.0, Zack will uncover tons of crazy tricks that no one has discovered yet. Get ready to dig so deep into your competition with the best strategies and absolutely crush it on Amazon.
---
---
Matt Altman is a $150 million USD seller. He started around 2010 with textbooks and retail arbitrage for 3 to 4 years, building up some cash flow to get into importing from China. Then, he got into health and personal care, a lot of like patented products, and supplements, which is still his niche until this day, making $150 million USD. Because of that, Matt Altman is known as "The Supplement King". He's so good in the supplement industry that investment firms throw money at him so he could geometrically multiply the sales of acquired companies.
---
SPEAKER: Taliesen Hollywood
---
Taliesen Hollywood is a M&A consultant who has expertise in business valuation and acquisition. He also specializes in e-commerce in the M&A space, particularly for Amazon businesses. Tal certainly has a lot to talk about regarding the Amazon marketplace of buying and selling businesses on Amazon, and he is here to show us how to get the best price for our Amazon businesses.
---
Don't Miss Out On This Once In a Lifetime Opportunity!
The Price of Howard Thai's Mastermind Will Return to a MINIMUM of $12,000 After This Event...
---
---
This EXCLUSIVE OFFER Goes Away Forever When the Timer Hits 00:00:00